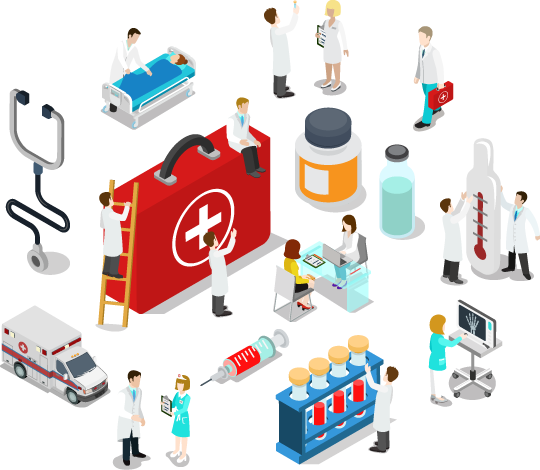 Lucky you! Not many people get the opportunity to "promote" themselves in their career. However, every nurse can choose to advance up the ladder. All it takes is a little planning … and some hard work.
You can enter nursing at several levels. Your decision may be based on how much time or money you have, how quickly you need to get a job, what your family obligations are, or where you live. No matter the reason, each rung on the nursing ladder adds to your knowledge and experience.
What is a CNA?
Many people begin their nursing career as Certified Nursing Assistants (CNAs), the professionals who provide direct care to patients or residents. Helping patients or residents with their basic needs can be gratifying. The benefits of becoming a CNA include the following:
Short training time (12–16 weeks)
No college required
Constantly high demand for CNAs
A good way to start acquiring nursing skills
over 40%
of CNAs work in skilled nursing facilities
Where do CNAs work?
According to the Bureau of Labor Statistics, over 40% of CNAs work in skilled nursing facilities and 11% work in settings with elderly clients, such as retirement communities or assisted living residences. About 25% work in hospitals.
What does a CNA do?
It's no secret that excellent patient or resident care is impossible without CNAs. For many CNAs, being at the bedside and helping their patients eat, bathe, and dress is the perfect job. Treating people with respect and ensuring their dignity is noble work.
What are CNA career prospects?
As you gain experience as a CNA, you may begin to notice the Licensed Practical Nurses (LPNs) and Registered Nurses (RNs) at your job, which may stimulate your interest in advancing your own career. They earn more money than you do, and they don't do as much of the physical work as you do. They also have more responsibilities, which you may find appealing.
You may be surprised to learn that, as a CNA, you can choose to become either an LPN or an RN.
There are special "bridge" or "ladder" programs to support you as you make the transition. It can take time to figure out your strategy and find the right program. Of course, everything depends on your personal situation. Let's look at some options that are available to you:
Work full-time and take classes part-time with tuition reimbursed by your employer.
Schedule part-time work around full-time or part-time classes.
Take online courses on weekends or before or after work.
Apply for scholarships that will cover the full-time cost of your program.
Apply for financial aid, which is often available to many students.
Next, decide if you'd like to study to become an LPN or an RN. Each can be a good choice. Let's look at the requirements and benefits of both.
What is an LPN?
Licensed Practical Nurse: An LPN (called a Licensed Vocational Nurse in some states) is a licensed nurse, specializing in basic patient care. An LPN works under the supervision of a Registered Nurse (RN). LPNs are able to take on greater responsibilities than CNAs, such as administering medications and changing sterile dressings.
almost 40%
of LPNs work in nursing homes or residential care facilities
What is good about being an LPN?
A license can be obtained in one year.
There are programs in technical schools and community colleges.
Certifications in IV therapy or gerontology can increase your pay.
Jobs are expected to grow 16% through 2024.
Almost 40% of LPNs work in nursing homes or residential care facilities. Other work settings for LPNs include hospitals, 17%; physician's offices or medical groups, 13%, and home health, 11%.
Many CNAs choose to become LPNs. You may not be able to afford either the time or the money to invest in a two- or four-year RN program. Or one of your long-term goals may be to gain experience at every level of care, so you want to take the next step to LPN. Or you may want to work in a certain setting, and being an LPN meets that educational job requirement. The only thing that matters is that you are satisfied!
How to become an LPN
To become an LPN, start by finding a program that suits your schedule and financial needs. There are programs that offer classes during the day, in the evenings, or on weekends. Some combine online courses with classroom instruction. Ask if you can get LPN program credits for your CNA experience. Just as in your CNA program, you'll be required to gain clinical experience; some programs may let you do it where you work.
Unlike the CNA examination, which can be different for each state and includes both a written test and a skills test, the LPN test is a national standardized test. Done on a computer, it's called the National Council Licensure Examination-Practical Nurse (NCLEX-PN).
What if you want to bypass the LPN program and go right into an RN program?
You'll be happy to know that your CNA experience has already taught you more than you think, and certainly more than your fellow RN classmates who have never set foot in a healthcare setting!
How to become a registered nurse
Becoming a Registered Nurse (RN) takes two years for an associate's degree (ADN) or four years for a bachelor's degree (BSN). Both degrees allow you to take the National Council Licensure Examination-Registered Nurse (NCLEX-RN), and both degrees give you the title of "Registered Nurse." In some locales, some hospitals or facilities are starting to require a BSN for employment.
RNs have a great deal of responsibility. Besides supervising CNAs and LPNs, they speak directly with doctors regarding a patient's status and any new orders for treatment. They can give injections, start IVs, and perform certain tests and treatments. The benefits of being an RN include the following:
Ability to assess patients and report directly to doctors
Ability to work in any healthcare setting
A strong job outlook with a 16% growth rate
Opportunity to advance to supervisor, administrator, or educator
Opportunity to obtain further degrees and specialization in any area
Over 60% of RNs work in hospital settings. 6–7% work in residential care facilities, physician practices, home health, or government.
How can you become an RN? Here's the good news: The CNA-to-RN route is the second fastest way to become a Registered Nurse! (LPN-to-RN programs are the fastest way.) An RN program has a few more requirements than an LPN program. You might need to take an ACT or SAT test if you didn't already take it in high school. You'll also need a grade point average (GPA) of 2.0 or higher.
RN students take more courses than LPN students. Besides anatomy and physiology, which LPNs may take, you'll be required to pass chemistry, microbiology, pathophysiology, and psychology. Many CNAs and LPNs prefer to get these prerequisites out of the way before starting the nursing courses.
Like LPN programs, today's RN programs offer great flexibility to help you get your degree and license. Discuss your personal needs with someone in the Admissions office or nursing program. They will likely be happy to help you find a way to succeed.
Don't be daunted by the demands of advancing your career!
Consider several things:
You have already proven that you can learn, study, and pass coursework.
You have gained a great deal of knowledge about the fundamentals of nursing care.
There is no timeline. Take one course at a time when you're ready.
Everyone has different goals. Find your happy place and stay there!
CNA salary compared to LPN and RN salary
While salary shouldn't drive your decision, if you're ready to make a change, knowing how much you can earn may motivate you to move forward.
Here is the median average pay for nursing professionals in May 2015:
CNA:	$25,710

LPN:	$43,170

RN: 	$67,490
Finally, no matter what your role will be in nursing, take pride in what you do and how important it is to those you care for. Donna Wilk Cardillo, a fellow nurse, says it well:
"Nursing is not for everyone. It takes a very strong, intelligent, and compassionate person to take on the ills of the world with passion and purpose and work to maintain the health and well-being of the planet. No wonder we're exhausted at the end of the day!"