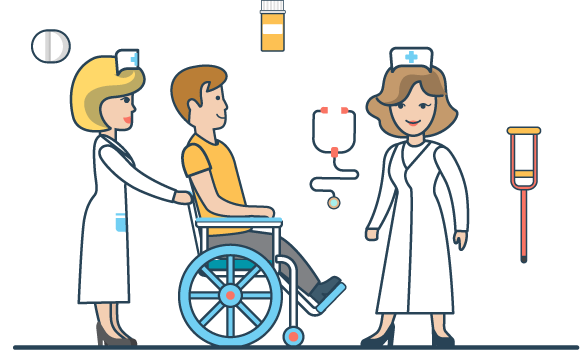 Job descriptions: What's the big deal? Do they matter? Does anyone actually look at them?
They ARE a big deal! They absolutely matter! And you had better be looking at them!
A job description is the formal, written explanation of the duties and responsibilities of a particular position. It includes the qualifications and physical demands required for consideration, as well as the pay grade.
Any facility at which you work must have a job description for each person on staff. Here are some good reasons for a job description:
It clearly defines the duties of the position for both the employer and the employee.
It serves as a checklist for employee performance reviews.
It helps keep pay scales consistent within each job category.
Workloads can be distributed and managed more easily.
Promotions and career ladders can be defined.
There is a ton of information in those dull sentences.
Every position you apply for and then get hired for has a job description. There is a ton of information in those dull sentences. Let's go through the parts of a job description so that when you'll be considering a job offer, you'll know how to decide if it's right for you.
A CNA Job Description: Let's Read Between The Lines
1

Job Title:

The job title tells you the position's level in the organization. For a CNA, look for titles like "Certified Nursing Assistant" or "Staff CNA." This tells you that certification is going to be a requirement. Some hospitals or institutions may have different titles for the CNA level, such as "Nursing Technician" or "Patient Care Technician." If you see either of these, don't assume that you aren't qualified!

2

CNA Duties and Responsibilities:

This section is the heart of the job description. It lists the major duties of the job, often with examples and the reasons for those duties. A good job description will include an extensive list that covers most of the responsibilities that a CNA can expect. For example, CNA duties for a nursing home may include the following:

Assists with Activities of Daily Living (ADL) by serving meals and feeding patients as needed; offering fresh water and snacks; helping patients ambulate; and turning, positioning, and transferring patients.
Takes care of patients' personal hygiene by assisting with or giving bed baths, baths, or showers; toileting by offering bedpans and walking patients to the toilet; providing backrubs and skin care; and keeping patients clean at all times.
Follows nurse instructions to perform procedures, including but not limited to administering enemas; applying non-sterile dressings, ice packs, and heat treatments; giving sitz or therapeutic baths; and applying restraints on the order of a physician.

Following the specific duties of the job, other responsibilities are typically listed. They may look vague, but they are just as important as your job duties. They usually look something like this:

Complies with HIPAA Privacy Act by protecting confidential patient information.
Follows all policies and procedures to maintain a safe hospital setting.
Participates in all training and continuing education. Maintains licensure to meet federal, state, and accreditation standards.

Pay very close attention to each point in Duties and Responsibilities. When you accept a job, you agree to each and every one of those items. Your supervisor will use your job description as a checklist to evaluate your job performance. If there is a duty that you don't understand, ask for clarification or more information.

It's impossible to list everything in a job description.

One more thing: It's impossible to list everything in a job description. New or unique situations will occur that fall into your job category. To cover this possibility, many employers will also include a generic "Other duties as assigned" statement.

3

Position Summary:

This is a quick version of the Duties and Responsibilities section. It is a general description of the most important responsibilities and functions of the job. It also has some language about following corporate rules and standards to remind you that there are high standards for behavior. The Position Summary usually also includes the title of the supervisor to make it clear whom you directly report to.

The Position Summary for a CNA might contain this:

The Certified Nursing Assistant (CNA) is responsible for providing assistance to the professional staff. Delivers direct care to patients (bathing, toileting, feeding, grooming, etc.) as directed by the RN or LPN in charge. Always maintains patient comfort and safety. Follows all departmental policies and procedures as well as safety, environmental, and infection control standards. Represents the facility with integrity, free of gifts or improper inducements. Adheres to the facility's Core Values and mission with complete regard for the dignity of each person.

4

Education and Experience:

After telling you what the job involves, the job description lists the qualifications to fill the position. There may be several parts:

Educational requirements are at the top. If it says "certified," you must be able to provide a copy of your certificate. There may be other requirements such as a high-school diploma or GED.
If work experience is necessary, the minimum time will be indicated. For a CNA, it may not be required, or it may be listed as "1 – 2 years" in a particular setting.
Skills and abilities may include being bilingual, knowing how to use a computer, or having a valid driver's license. Sometimes there is a statement about the capacity to communicate verbally and in writing, or work with minimal supervision.

5

Working Conditions:

The employer must tell you the physical and schedule demands of the job. This is an important section to read and understand.

The environment where you will work can include a description of the nursing unit, the noise level, and the likelihood of interruptions.
Physical requirements will include the degree of activity, which is active for a CNA. Positions during work will be listed: standing, walking, kneeling, stooping, sitting, lifting, and pulling. There will be a statement of the maximum weight you'll be expected to lift.
Sometimes there are a few sentences about being able to see and hear or use other sensory inputs on the job.
The planned schedule should be provided along with a catch-all statement that "Overtime and alternate shifts may be necessary." For a CNA position, look for a description such as "This position requires long hours. Work on weekends and holidays is part of the job."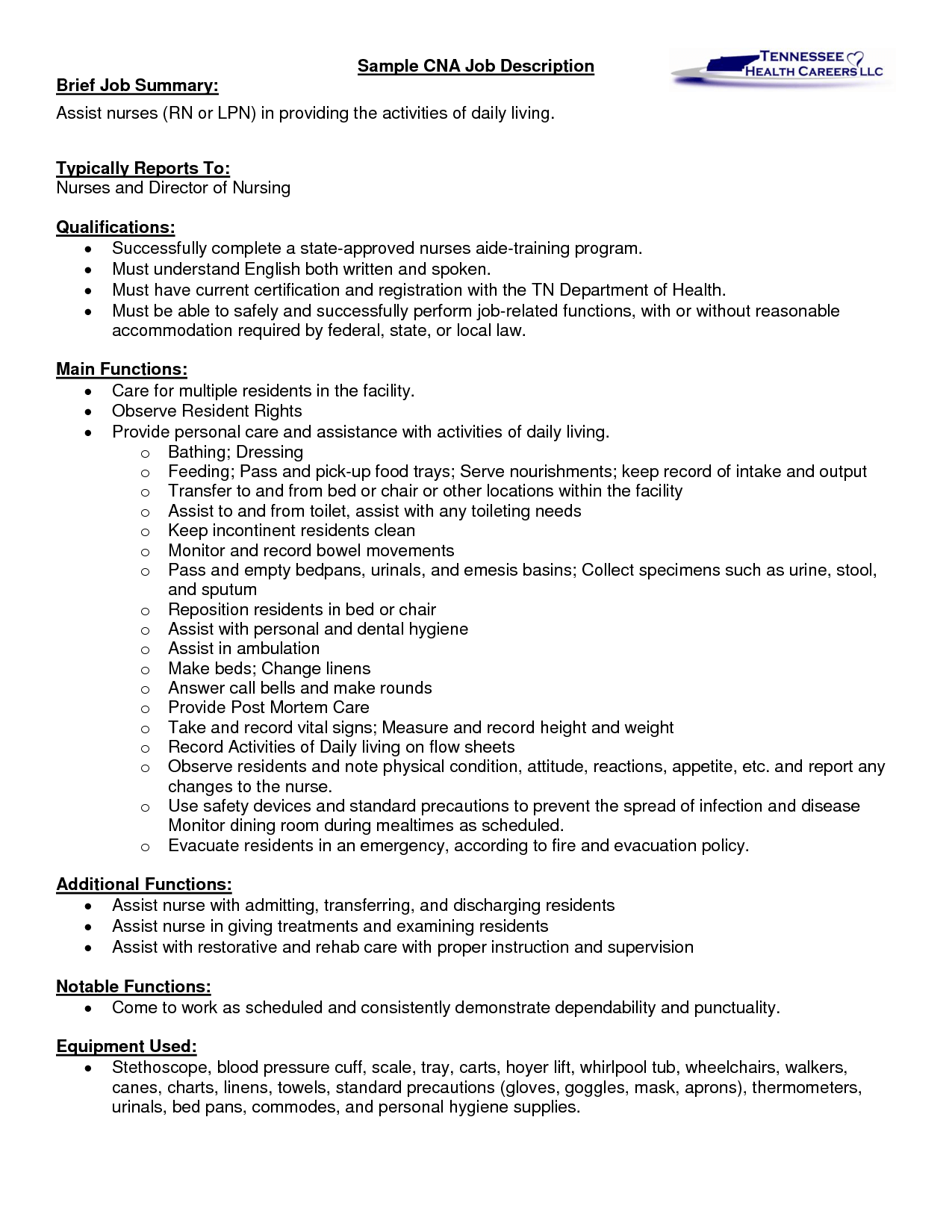 Job descriptions are sometimes posted on the employer's website.
If you are invited for an interview, you should be given a copy of the job description before you leave. Take the time to really study it because it can tell you more than a Human Resources staff member who may not be familiar with what a CNA does. Use it to help you decide whether the job will be a good fit for you and the employer. If so, congratulations on your wise decision!