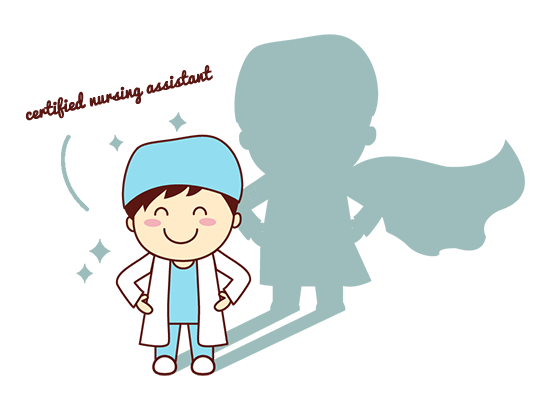 Perhaps you've thought about becoming a Certified Nursing Assistant (CNA) but you have a few questions about what it's like and what to expect. A career as a CNA is an excellent way to enter the field of health care. It's demanding—but also very satisfying.
How to Become a Certified Nursing Assistant

Get nursing assistant training. These programs are usually available at medical facilities and community colleges. Normally, Certified Nursing Assistant programs last from 4 to 12 weeks. No college degree is required -- you'll only need a high school diploma or a GED credential. Most states require you to be 18 years old, but a few states allow CNA students to be 16 or 17 years old. During the program, you'll get at least 75 hours of classroom training, plus time learning the clinical skills you'll need on the job.
Take the CNA examination for your state. After completing Step 1 above (the state-approved training course), you'll be eligible to take the CNA examination. See CNA certification requirements for your state.
Choose where you want to work. CNAs have a choice of job opportunities. Many like to work in residential or long-term care facilities. But there are other options, depending on your interests: hospitals, clinics, or hospices. You can also get additional certification in some specialties, including geriatrics and pediatrics. Here are 3 best places for new Certified Nursing Assistants.
Write a winning CNA resume. A good resume will put you at the front of the hiring line. It will set you apart from other new CNAs, mark you as a serious professional and show that you have abilities and experience that matter to an employer. Here are the steps to create your personal CNA resume.
Schedule your first job interview. The more you prepare, the better your interview will go. Relax! Be friendly, wear a smile, and give a firm handshake. See what you should and shouldn't say at your interview.
Here are some common questions—and totally honest answers—about what it's like to work as a CNA.
1

So, what exactly is a Certified Nursing Assistant?

We're glad you asked! The CNA is the backbone of health care. Most of the direct patient care in many health care settings is done by CNAs. Working as a team member, the CNA takes vital signs and helps patients bathe, dress, eat, and go to activities. Patients depend on CNAs to help them go to the bathroom and transfer from their beds to chairs. In short, just about everything that a patient needs, a CNA does. CNAs spend more time with patients than any other team members.

CNAs spend more time with patients than any other team members.

2

That seems like normal everyday stuff. What else does a CNA do?

There is so much more to this job than you think. While CNAs are helping their patients, they are also observing them. Because CNAs get to know their patients so well, they are often the first to notice tiny changes that would escape anyone else: a little red spot on the hip, a favorite food untouched, a sudden weight gain. These can be significant red flags and need to be promptly reported.

3

Wow, that's cool! But what about all the "stuff" that needs to be cleaned up?

Yes

The CNA changes diapers and wipes plenty of bottoms

We won't lie to you. Being on the front line means being the person who takes care of inconvenient cleanups. Yes, the CNA changes diapers and wipes plenty of bottoms. We also wipe chins. But, you know what? We like helping our patients stay clean and fresh. We do it because they deserve to be treated with dignity and respect. They never expected this would happen to them. Someday, it could happen to any of us.

4

It sounds like there is a lot of physical activity. Do I need to be strong?

There is a physical requirement to succeed as a CNA. You don't need to be an Olympic weightlifter, but you should be able to help a patient move in bed, stand, and transfer to a wheelchair with your support. You must know and use proper body mechanics to avoid injury to yourself and others. No one ever lifts or moves more weight than they should. That's what co-workers are for. It's called "teamwork!"

5

Not to be rude, but how much will I make? And will I get benefits?

$26,000

the median salary for CNAs

We asked the same questions. According to the U.S. Bureau of Labor Statistics, the median salary for CNAs is about $26,000 per year. The benefits are great if you work full-time: paid vacation and holidays, medical insurance, and a 401(k) plan. Part-timers often get prorated benefits. Some places also offer tuition reimbursement and child care credits. Want to know what else is super? The job outlook for CNAs is brighter than for most other professions. About 300,000 more CNAs will be needed by 2024.

6

Thank you. I get it. Are there any low points during the day?

Sure! Every day in every job has its low points. Sometimes we're so busy we can hardly get a bathroom break. Some days, our best patients become childlike or depressed. And the patients that need more care… Well, they need even more care. We may want to pull our hair out, but we know tomorrow will be different. So we soldier on and do the best we can, helping our co-workers to get through the day. And we laugh together.

7

There must be some high points, too. Care to share?

There are awesome days that make us glad we chose to become CNAs. Like when a patient learns to eat with a spoon again or take a step after a stroke. When a patient shares a story from the person's past. When we get to hold a patient's hand as the person passes away. When we make a patient feel happy to return to their perfectly made bed. When a family thanks us for being so attentive. Little moments, little successes. But they mean the world, and we treasure them.

8

Okay! What do I need to do to join the CNA ranks?

Great question! First, you should be at least 18 years old, although a few states allow 16- or 17-year-olds who have parental consent. A high school diploma or the equivalent is required. Next, you will need to find a CNA training program that is approved by your state. You will take courses in the classroom and in a clinical lab setting. After you pass the training program, you will be eligible to take the certification examination. CNA training programs are 4 to 12 weeks long. You'll find them at a nearby community college or trade school. The American Red Cross also offers training in many states.

9

What happens after I pass the CNA program?

This is when things get exciting! Now you can apply for your certification. Each state has its own requirements for the examination: how to apply, what the cost will be, where the exam will be, and what to bring. Your school will tell you what to do.

q

How can I prepare for my CNA examination?

Of course, you'll want to review your notes and textbooks from your CNA program. Go over each area of basic skills, patient care, safety, and ethics. But that's not enough. Rehearse every skill, from handwashing to handwashing. Talk your way through each skill as if you were speaking to the patient and the proctor who grades your demonstration.

w

Any other advice?

Absolutely! Take our practice tests at cna.plus to review important information. Many of the questions are the same as those you'll encounter when you take your examination. Each time you take one of our practice tests, the questions are shuffled, so they're never in the same order twice. Plus, the site will give you an explanation for every single question to help you understand and remember the answer.