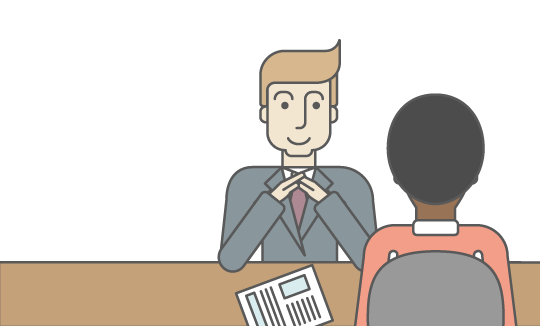 You did it! You finished your CNA classes and passed your CNA examinations! Now you're ready to find a job and start your new career.
Chances are that you've already had other jobs. You may already know how to fill out a job application. Besides being asked for the usual identifying information (name, address, phone number, and email address), you'll also be asked to list your previous work experience, education, and possibly the CNA courses you took. Some applications may also ask you for your grade point average (GPA) or a list of your interests and hobbies.
Usually, you'll be asked to list two or three professional references, people who can describe your skills, work ethic, reliability, and attitude.
(References can't be family members.) Plan ahead for this important part of the application. Can one of your instructors recommend you? A former supervisor? Even if you only worked at a fast-food restaurant, your shift manager can say that you were a great employee. Co-workers can talk about how well you have gotten along with others. You can also include references from outside the workplace. Are you active in your church? Do you volunteer? Were you a fabulous babysitter? Don't list people before asking them if they are willing to serve as your professional references. Also, ask them for their phone numbers and email addresses to include on your application. If they're willing, ask them to write letters of recommendation for you.
Before they even meet you, impress future employers by creating a resume. Many CNAs don't realize that a resume sets you apart as a professional, even if you're just seeking your first job. You'll want to attach your resume to your job application, whether it is on paper or online. (Not sure how to get started? We can help! Here's an article on how to write your resume.)
What you'll need to take with you for your interview
After you've submitted a job application, gather everything you'll need to take with you for your interview:
Folder for your papers. Just a plain school folder with pockets is fine.
3–5 copies of your resume. Give a copy to any interviewers who haven't seen it yet.
CNA certification information for your state
CPR card, if you have it or if it is required by your state
List of references, if it wasn't part of the application
Letters of recommendation, if you have any
Paper and pen with which to take notes or write questions
What to wear to your interview
You want to show that you take pride in your appearance. There's no need to wear a suit or fancy dress. A pair of dark slacks and a blouse or top will look fine. Of course, they should be clean and well-fitted. Your hair, makeup, and accessories should reflect your professional style.
The most common informational questions
When you get the call to come in for an interview, it will be time to prepare for the questions you are likely to be asked. Try to devise answers ahead of time. There are two types of questions. First are informational questions, which ask about your skills and talents.
1

Tell us about yourself.

Every interview has this question … and it is often misunderstood. Do not answer with your life story: "Well, I was born in Pittsburgh. I met my husband in high school…" Instead, talk about why you want to work there. "I've always wanted to have a career in health care. I'm good with people, and I enjoy helping others."

2

Why did you decide to become a CNA?

Here is where you really "strut your stuff." Think of a story from your life that shows how much you like taking care of people. For example, talk about how you used to visit your grandmother in the nursing home and how you liked to do her nails or help her eat. Tell the interviewer that you know that CNAs work hard but they get to do so much for their patients. You can add that you want to be part of a team and make patients feel special and respected.

3

Where do you see yourself in five years?

This is a rather silly question because no one knows what the future holds. Be honest, but don't go into too much detail. Perhaps you simply want to work near home, earn a paycheck, or get the experience necessary for the job you really want. But don't say those things! A good answer might be "I'm so excited to start my career as a CNA! I know I'll need several years of experience to really gain confidence and improve my skills." If you're planning on returning to school, it's okay to say so: "At some point, I may want to become an LPN, but for now, I'm focusing on being a great CNA."

4

What are your strengths (positive personality traits)?

For some reason, employers love to ask this question along with its counterpart, "What are your weaknesses?" Develop your answer now so you won't have to fumble during the interview. Prepare to tell the interviewer that you're organized and reliable and get along well with all kinds of people. (You have good qualities, so don't be shy!) Even better, think of times when you were awesome: "When I worked at the ice cream shop, we were so busy! I would come in a little early to get things set up. But it was so much fun, seeing the customers enjoying the cones and shakes that I made! My co-workers said I made the job fun for them, too."

5

What are your weaknesses?

As much as we all hate the question about strengths, this one is even worse. Who wants to admit to having flaws? The truth is everyone has a few. Here are a couple of hints: First, turn a weakness into a strength. For example, if you know you're a perfectionist, you could say, "I sometimes have a hard time being patient when others don't want to do their job well." Second, think of a story that illustrates how you recognized a weakness in yourself and worked to overcome it. Maybe you're a control freak. Here's what you could say: "I used to think that no one could do a job as well as I could. I didn't want to share tasks or ask for help. I would feel frustrated. But over time, I've come to appreciate having co-workers and team members who can pitch in."

6

Why did you leave your last job?

After your first CNA job, you should expect this question on interviews. As much as you'd like to, you cannot say, "It was terrible! I couldn't get out soon enough!" Never, ever bash a former workplace or supervisor. Again, you need a thoughtful, honest answer, such as, "I always enjoy patient care, I learned a lot at the job, and am ready to take my skills in a different direction."
The most common situational questions
Other questions are situational. The interviewer will ask you these questions to help decide if you are a good fit for the job. You'll be asked to talk about times when you h ad to solve problems or handle challenges. Each employer may ask different questions, but they're always looking for similar information:
A time when you had to do something different or difficult
What you actually did
How it turned out
If it did not turn out well, what you learned for next time
It's a good idea to look at the list below and develop some responses based on your own experiences. Your answers can come from jobs, the community, church, or your personal life. The questions usually start with the phrase "Tell us about a time when…"
You had to deal with a difficult client [or patient or customer].
You had to prioritize tasks although they were all important.
You had to work with others to get a task or project finished.
You had a demanding or difficult personal challenge.
You may also be asked, "What would you do if…"
A patient refused care?
You saw a co-worker yelling at a patient?
A colleague wasn't doing his or her assignment?
A patient became aggressive or combative?
Questions you won't be asked
By law, there are questions that interviewers are not allowed to ask because they might be discriminatory. You are supposed to be judged only on your qualifications. Interviewers can't ask how old you are or if you are disabled. They cannot ask you if you are married or if you have children or plan to. They cannot ask you if you're pregnant or about your child care. They also cannot ask about your religion, race, or ethnicity. They can't ask about your political views, whether you're in debt, or whether you smoke or drink. You can choose to volunteer such information, but it's better to stick to the job and what makes you the best candidate for it.
Questions you can ask yourself at a CNA interview
After you've been asked all sorts of questions, it will be your turn! Your interviewer will say, "Do you have any questions for me?" Your answer is always "Yes." Not only should you have questions but you also want to show interest in the job and the facility. Be prepared with several standard questions, but also write down questions that you think of during the interview. Here are some examples:
Can you tell me about Orientation here? How long is it?
How many people work here? What is the staff-to-patient ratio?
What is a typical day or week like?
Are there opportunities for education and professional development?
Can you show me around?
Avoid asking about benefits, vacations, days off, or holiday schedules. Let the interviewer provide such information.
They should also tell you about particular policies, such as whether the facility is a smoke-free workplace.
Final tip: Whether you speak with one person, several people, or a panel, get each person's name. Ask for their business cards. As soon as you get home, write each person a thank-you note. If possible, send it by email. Snail mail may take a few days to arrive. Thank them for their time and remind them again that you are excited about the opportunity. Include a line or two about your qualifications. Conclude by saying that you look forward to hearing from them soon. Too many people don't follow up after their interviews. When you do, you'll score points and move up to the top of the candidate list.
This seems like a lot, but the more you prepare, the better your interview will go. Relax! Be friendly, wear a smile, and give a firm handshake. You'll find that you get better with practice. Be honest and be your best self! You'll find the perfect job soon.